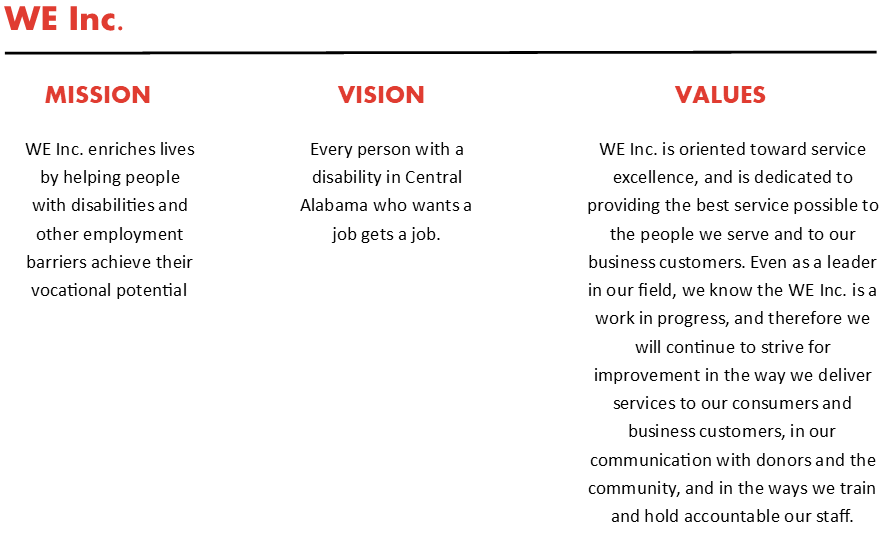 ---
Our Service Recipients:
We view the people we serve as people of infinite worth and believe that each person has something valuable to offer to the world. We will treat each person with compassion and respect, and will strive to provide the best individualized service possible to help each person achieve his/her full potential.
Our Business Customers:
We are grateful for the many local businesses who choose to partner with WE Inc. to achieve our common goals. We recognize that we could not achieve our mission without the support of these valuable customers, and we will provide each with excellent service, quality work and timely completion.
Our Staff:
We value a competent and experienced staff from diverse backgrounds, where compassion is a core value. We believe in the value of teamwork and acknowledge that we can accomplish more together than as individuals. Understanding that we live in a dynamic society, we encourage staff to regularly participate in training opportunities and to bring innovation to service delivery.
Our Financial Supporters and Community:
WE Inc. strives to be transparent in all of its business practices, communicating proactively and honestly with our constituents and working within our community to promote philanthropy with integrity.
WE Inc. is proud to be accredited by the Standards for Excellence Institute since 2016.